Tokyo, Japan, April 18, 2018 --- Teijin Limited announced today that it will participate in Chinaplas 2018, Asia's largest international exhibition for the plastics and rubber industries, which will be held at the National Exhibition and Convention Center (Shanghai) on April 24-27. This will mark Teijin's 19th appearance at the event.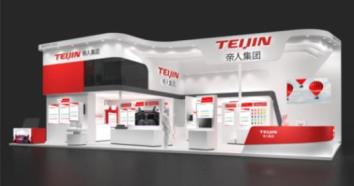 The Teijin booth (7.2 S11) will introduce resin products and related business initiatives to provide solutions that incorporate high-performance materials and technologies. Also, seminars to introduce advanced processing technologies and solutions for components, which were well received during last year's exhibition, will be held again this year.
Highly Functional Materials for Solutions
Displays will include PC resins with a wide range of practical applications, including high-reflective-index camera lenses, ultra-hard resin with surface strength equal to that of an H-hardness pencil, high optical diffusion resin required for LED lights, and PEN resin offering excellent heat and chemical resistance.
Highly Functional Products
The booth will also present highly functional SOLFIGA PPS compounds that have been improved with proprietary materials, such as aramid fibers and carbon fibers, and FCX-210, an organic phosphorus compound that has drawn attention with its flame-retardant property.
Total Solutions for Customers
Visitors will also view an automotive window made of
Panlite
, a PC resin that is half the weight of glass but more impact-resistant, and a large, distortion-free window panel made with Teijin's superior coating technology. The booth will also showcase PC/PP resin compounds offering high heat resistance and high strength required in fields such as healthcare and housing.

The exhibit will be a further demonstration of how Teijin is transforming its business under a long -term vision to anticipate external changes and support the society of the future.