On September 14, Toppan Europe GmbH (hereafter TEU; head office: Düsseldorf, Germany; CEO: Hideo Yoshikawa), a subsidiary of Toppan Printing Co., Ltd. (hereafter Toppan Printing; head office: Chiyoda Ward, Tokyo; President & Representative Director: Shingo Kaneko) acquired a majority stake in Decotec Printing S.A.U. (hereafter Decotec; head office Catalonia, Spain; Managing Director: Juan Carlos Benito), a décor material printing company and wholly-owned subsidiary of Financiera Maderera S.A. (head office: Galicia, Spain; CEO: Santiago García Valiño).
This investment will enable Toppan Printing to secure its first décor material manufacturing base in Europe and further strengthen the business in the global market by complementing existing plants in Japan and the U.S.
Toppan aims to generate approximately ¥3 billion in new sales in 2020 through this acquisition.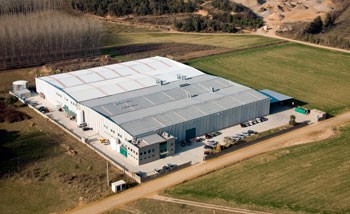 The Decotec plant that will become Toppan Printing's first décor materials manufacturing base in Europe
© Toppan Printing Co., Ltd.
■ About Toppan Printing's Décor Materials Business
Toppan Printing entered the décor material printing business in 1956, developing and selling a range of decorative surfacing materials for furniture, fixtures, flooring, and more. The company began to open sales bases overseas in 1971 to expand business globally, primarily in the U.S., Europe, and Asia. A décor material printing plant was established in the U.S. in 1988 to further strengthen manufacturing and sales capabilities in overseas markets. Based on its unique set of "printing technologies," Toppan Printing contributes to the creation of décor material products and spaces with superior design and functionality.


■ Overview of the acquisition

| | |
| --- | --- |
| Name of target company | DECOTEC PRINTING, S.A.U. |
| Location | Tordera, Barcelona, Spain |
| Managing Director | Juan Carlos Benito |
| Business | Manufacturing and sales of décor paper for melamine laminates and laminate flooring. |
| Capitalization | €1.18 million (approx. ¥134 million) |
| Date of stock acquisition | September 14, 2017 |
| Percentage of stock acquired | 60% |


* The names of companies, products and services featured in this press release are the trademarks or registered trademarks of the respective companies.
* The information in this press release is current as of the date of publication and is subject to change without notice.