The finishing and converting solution efficiently supports and enhances digital print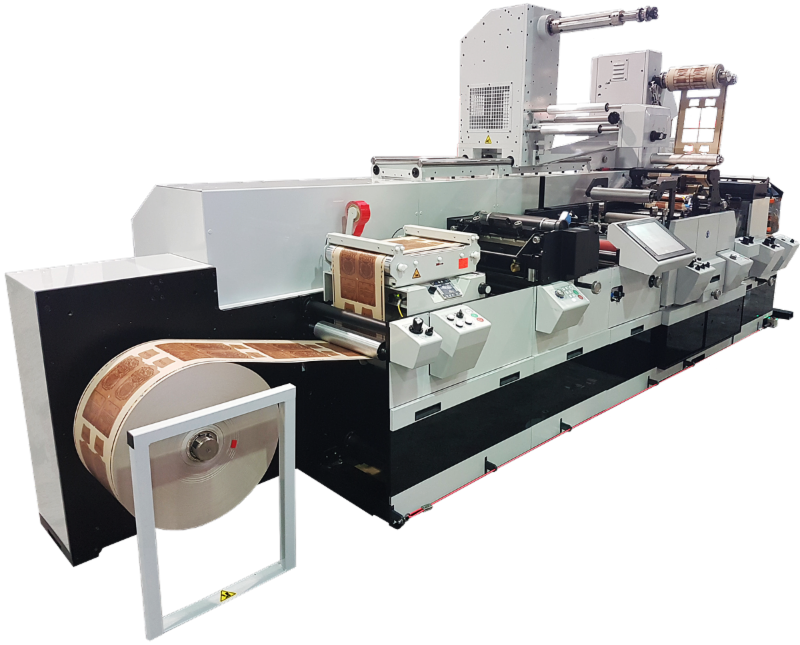 Rotoflex, a leading force in the offline inspection, rewind and finishing market, has debuted a new technology to its suite of solutions- the Rotoflex DF3. The machine was formally introduced at Labelexpo Americas 2018.
Rotoflex DF3 is a configurable offline digital finishing and converting solution. Servo-driven from unwind to rewind with print and die cut units in between, the intelligent DF3 system delivers efficient operation and a full spectrum of offline decoration and finishing in the fast-growing digital and hybrid world.

"The DF3 is ideal for a business that currently operates roll-to-roll digital label presses and is ready to its optimize finishing processes" explains Kevin Gourlay, Senior Vice President, Rotoflex. "The Rotoflex organization is excited to share with the industry how this solution can remove the bottlenecks in production while meeting customer embellishment requirements. All with a single post-press asset." The DF3 complements digital, non-hybrid label presses without inline converting functionality and eliminates the need for single-application embellishment units.

Manohar Dhugga, VP of Operations, Rotoflex states the technology is a smart replacement for legacy digital converting systems due to its configurability. "The DF3 comes with a rail option that opens a lot of doors when you add it to your configuration" provides Dhugga. The rail enables lamination, foil decoration, rotary screen (both conventional or UV digital alternatives), advanced waste removal features and turnbars. Dhugga continues "At the show, we got a lot of praise for the lamination capabilities the rail brings to the table. It's something that conventional digital or other similar systems can't do inline and the DF3 supports it cost-effectively at top speeds for short-run work."

The DF3 delivers capabilities of both full and semi-rotary diecutting which accommodates a wide range of repeat sizes and existing investments in tooling. Die changeovers are also achieved in 30 seconds or less. Additionally, like all Rotoflex solutions, the DF3 is backed by an experienced team of technicians who understand digital label and packaging workflow optimization.

In contrast to other devices in this space, the DF3 was built with speed in mind, converting and finishing at an unprecedented 1000 fpm. Beyond speed of the actual hardware, Rotoflex is able to support delivery by end of the year for those interested in taking advantage of the Section 179 tax incentive for capital equipment expenses.

The Rotoflex DF3 is available for demonstrations at the company's new headquarters in Mississauga, Ontario, Canada. Beyond housing the core Rotoflex team, the facility also supports manufacturing of the inspection and rewind systems, which was initially conducted at Mark Andy Inc. headquarters in the United States, parent company to Rotoflex.

Gourlay concludes "There was a significant gap in the market for an offline solution to support brand requirements. This machine hits all the key needs- value-add finishes, high speeds, and options for any business challenge. We've had many companies already commit to the technology at Labelexpo and we anticipate it to make a major impact on their bottom lines in Q4."
More information on the Rotoflex DF3 can be found on the new dedicated product landing page: df3.rotoflex.com

About Rotoflex
With more than 8000 installations globally, Rotoflex is a world leader in inspection, slitting, rewinding and die cutting equipment. Rotoflex looks beyond the machine to the ultimate needs of its customers. We work in partnership to serve your unique, specific requirements. Our customer driven approach has made us the finishing partner of choice - for over 40 years. Rotoflex equipment is supported globally by the largest OEM Customer Support team in the industry.
A proud brand of Mark Andy Inc., (markandy.com) Rotoflex is an important aspect of the company's Total Solution Partner strategy. The business is headquartered in Mississauga, Ontario, Canada, with sales and distribution offices worldwide.
Rotoflex. Leaders by design.

rotoflex.com